Camden is a chic seaside town in mid-coast Maine that attracts thousands of tourists every year. Although Portland is usually known as the "foodie" hot spot in the state, it isn't the only one.
Camden has a surprising number of fine dining and innovative restaurants. If you only have one or two days in town, it can actually be difficult to choose due to the number of options in such a small town!
With that being said, you can't go wrong with eating at any of these 10 Best Restaurants in Camden, Maine.
**Note, these are in no specific order, they're just numbered to keep track of them.
Check out some of our other recommendations in the Mid-Coast Maine region:
– 14 Fun Things To Do In Belfast, Maine
– Boothbay Harbor Travel Guide
– 11 Beautiful Public Gardens in Maine
1. The Waterfront Restaurant
If you're looking for classic and local Maine fare, The Waterfront is the place to stop in Camden. True to its name, this casual lunch and dinner restaurant sits on Camden Harbor with sweeping views of the water and even has a large deck to enjoy the salty ocean air while eating and drinking.
You can't go wrong with any seafood dishes – they're absolutely delicious and the seafood is bought from local fishermen. Below is a picture of their salmon burger, but some other favorites I would suggest include the haddock rueben, the crab and artichoke fondue, lobster and corn risotto, clam chowder, and anything with scallops.
My mouth is salivating just thinking about The Waterfront!
Current hours (as of 10/22/22):
Wednesday through Monday 11:30 am – 9 pm (closed Tuesdays)
Visit their website here: www.waterfrontcamden.com
2. Fresh & Co.
Fresh & Co. is one of several farm-to-table restaurants in Camden, Maine. They are a globally inspired eatery featuring dishes from around the world, prepared with fresh local ingredients.
They have a rotating menu based on what produce is in season4 along with 16 draft lines of craft Maine beer, international can/bottled brews, a carefully chosen list of unique wines from around the world, and an exquisite list of crafted cocktails that will keep you coming back for more.
My favorite part about Fresh & Co. is its diverse menu which always has several vegetarian/vegan options (that aren't garden salads!) for those that prefer to forgo meat in their diet.
Current hours (as of 10/22/22):
Tuesday through Saturday: 4:30 pm – 9 pm
Visit their website here: www.freshcamden.com
3. The Jack
Stop by The Jack for an evening of elevated bar food, delicious drinks, and fun yard games. Tacos and pizza are what they do best, but the rest of the menu is an interesting fusion of traditional American pub fare with some Asian influences.
Try a starter of Jalapeno Rangoons or Hush Puppies with a round of each of the Korean and Cuban tacos – you can even substitute crumbled tofu for the meat if you're vegetarian! The option to order a slushie with a shot of alcohol in it sounds deliciously refreshing.
Although the food is great, the best part about The Jack has to be the Bocce Ball and Corn Hole lanes where you can play for an hour at a time! This is an awesome place to bring a group of friends or adult family members for a fun and relaxing night out.
Current hours (as of 10/22/22):
Tuesday through Saturday: 4 pm – 9 pm
Visit their Facebook page here: www.facebook.com/thejackcamden
4. 40 Paper
40 Paper serves fresh, modern Italian cuisine year-round out of the historic Knox Woolen Mill in downtown Camden. Their menu changes seasonally based on the availability of certain ingredients, but you can always expect to be dazzled by their new-age takes on classic Italian dishes.
Their pastry department specializes in gluten-free desserts, so there's no reason not to indulge your sweet tooth! They have tiramisu, gelato, and more – all homemade.
My personal favorite part is their drinks. In typical Italian fashion, the wine list is an entire page single-spaced, but they also have beer and unique cocktails. Don't miss happy hour every afternoon from 4-6 pm where drinks are 40% off.
Current hours (as of 10/22/22):
Monday through Saturday: 4 pm – 9 pm (closed Sundays)
Visit their website here: www.40paper.com
5. Franny's Bistro
Franny's is an adorably cozy bistro serving a unique high-end menu of delicious food and drinks. You'll find a little bit of everything on the menu, including shrimp & grits, a grilled rack of lamb, several linguine dishes, shrimp dumplings, duck confit, and more.
Don't forget to save room for dessert! Their almond cake is absolutely to die for. The cherry on top is the impeccable service that Franny's Bistro provides to its guests. The servers are friendly, professional, and attentive and will leave you with a lasting impression of what good hospitality should be.
Franny's has a cute outdoor patio with tall heaters to keep you warm on those chilly summer nights near the ocean. Sitting only a block up from the water, keep Franny's in mind for an easily walkable destination for a romantic date night or to catch up with an old friend.
Current hours (as of 10/22/22):
Wednesday through Saturday: 5:30 pm – 8:30 pm
Visit their website here: www.frannysbistro.com
6. wolfpeach
Foodies take note! Wolfpeach opened in December 2021 in Camden and has quickly become a favorite in the state. The owners pride themselves in using only Maine-grown and caught ingredients – it's hard to put their mission in better words than this excerpt from their website:
"Our menu honors the northeast and all the natural bounty it has to offer – seafood, produce, and wild-foraged delicacies – as well as all the growers, makers, fisher-people, and stewards of these delicious offerings. We do our absolute best to make everything in-house from local, seasonal ingredients: using Maine-grown flour milled in Skowhegan in our sourdough + pasta, sustainable seafood such as mackerel + squid from our coastal waters, and incredible produce from our surrounding farms."
They have a dynamic fermentation operation that adds unique flavors and acidity to almost every dish – from the butter, to the sauces, to even adding fermented tomato powder sprinkled on the deviled eggs. If you're looking for simple, nutritious eats with complex flavors, look no further than wolfpeach – it's definitely one of the best restaurants in Camden, Maine.
One more unique thing to note is that wolfpeach is a no-tip establishment. Tips are built into the prices of the meals and the servers are paid at least $20 per hour in exchange.
Current hours (as of 10/22/22):
Friday through Monday: 5 pm – 9 pm
Visit their website here: www.wolfpeachmaine.com
7. Boynton-McKay Food Co.
In contrast to the many higher-end dinner restaurants on this list, Boynton-McKay Food Co. is an All-American classic diner that serves breakfast and lunch. Breakfast is my favorite meal to eat out, so I get very excited to visit diners like this!
Boynton is known for their savory skillets, breakfast sandwiches, and eggs benedict. In addition to their permanent menu, they serve up deliciously creative specials every day. Some of my favorite specials have been buckwheat waffles with strawberry rhubarb compote, summer veggie hash, and any of the melts that have goat cheese in them.
The following review left on Yelp sums this restaurant up pretty nicely:
"I honestly like a good breakfast spot to eat at when visiting an area. I really like the nontraditional type of places because they think outside the box. Usually, restaurants might serve you a lot of prepackaged processed breakfast items that are made to fill you up quickly and move you out fast, but not this place. Everything was homemade, fresh, and just good."
Current hours (as of 10/22/22):
Wednesday, Friday, and Saturday: 8 am – 2 pm
Thursday: 7 am – 2 pm
Sunday: 8 am – 1 pm
Visit their Facebook page here: www.facebook.com/BoyntonMckay
8. Long Grain
If you're getting tired of the same old New England seafood cuisine (hard to get tired of, I know!), it's time to visit Long Grain. Although it's labeled a "Thai" restaurant, it fuses Thai with other Asian cuisines, such as Japanese, Singaporean, Indonesian, and Vietnamese by using fresh Maine ingredients.
Long Grain offers several wide-noodle dishes such as Pad Thai and Pad Kemao with a choice of chicken, pork, or tofu. You'll find fried rice, spicy coconut lemongrass soup, curry noodle soup, and several beef dishes that will not disappoint.
The highlight of their menu though is the daily specials they offer using local seasonal ingredients! Some specials that have been featured include fiddleheads & shrimp soaked in chili jam and deer curry – what?!
This place fills up quickly, so reservations are definitely recommended for busy dining times.
Current hours (as of 10/22/22):
Tuesday through Saturday: 11:30 am – 2 pm and 4:30 pm – 9 pm
Visit their website here: www.longgraincamden.com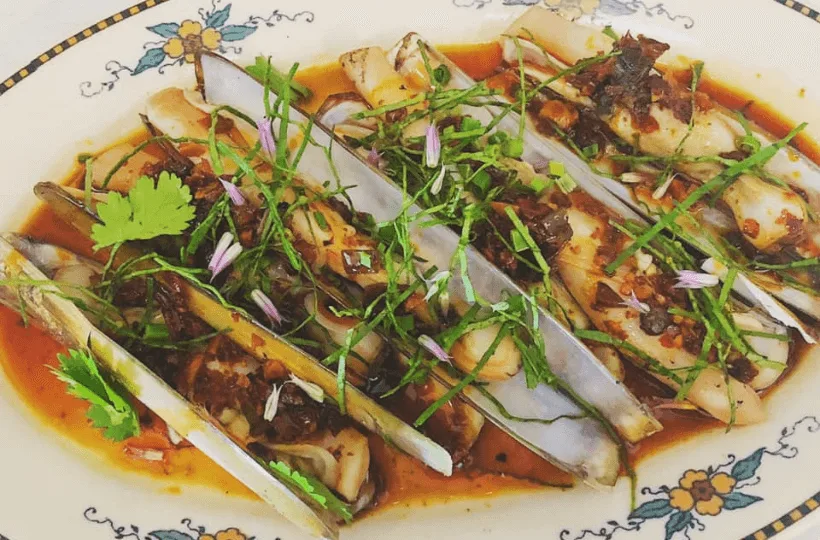 9. Natalie's Restaurant
Natalie's is an ideal destination for your culinary vacation. They offer fine dining in a warm atmosphere of lighthearted sophistication. Keeping with the theme of local ingredients converted into alternative fares, this spot combines Maine food with French cuisine. Enjoy a Prix Fixe 4-course tasting menu or A La Carte dishes in the dining room, or lounge by the fireplace while snacking from the small plate menu.
Some unique and flavorful dishes you won't find anywhere else in the state include Black Bass Tartare with Kombu Gelée and Beet Fumet, Duck with Date Vadouvan, Mustard Greens and Farro, Roasted Pumpkin Agnolotti with McIntosh Apple and Pepitas, and Persimmon Cake with Mascarpone and Cranberry. Trust me when I say that the flavors that Natalie's serves up will knock you off your fine dining feet.
There is no doubt Natalie's is one of the best fine-dining restaurants in Camden, Maine.
Current hours (as of 10/22/22):
Every day 5 pm – 8:45 pm
*Note: from November through May, they are closed on Mondays
Visit their website here: www.nataliesrestaurant.com
10. Peter Ott's On The Water
Peter Ott's is one of the more casual restaurants on this list, so it's a great place for a group of friends or to take the whole family for a dinner out. As the name suggests, the restaurant sits right on the water and actually has a deck that juts out into the bay where you can enjoy your meal. You can even bring your dog on the deck (if it's well-behaved, of course)!
Elevated American and Maine fare is what Peter Ott's is all about. You can order everything from clam chowder, oysters, and a lobster roll to fettuccine alfredo, a cheeseburger, and a lobster quesadilla. They have beer, wine, and cocktails to take your night in any direction you want it to go. While the food is delicious, the most commented-on aspect of this restaurant in reviews is the magnificent service.
Current hours (as of 10/22/22):
Wednesday through Sunday: 4 pm – 8:30 pm
Visit their website here: www.peterotts.com