I consider myself a picnic aficionado. I've had picnics on top of mountains, on beaches, in parks, on the side of mountains, in the forest, on a farm. I've had unplanned picnics, perfect picnics, picnics in the rain, homemade picnics, picnics with food from a restaurant, picnics with just drinks (not sure this qualifies, but it was still fun). They are one of my absolute favorite things.
So, why should you like picnics? What's so cool about eating outside when you could just eat inside and then go outside afterwards? I hear you. Picnics, especially a perfect picnic, can be a lot of work.
Picnics are about enhancing the regular activities of life by enjoying them together in a relaxed state of mind. Picnics pique our curiosity by prompting us to notice tastes, smells, and sights that we wouldn't otherwise notice at the dining room table.
They're about getting off your phone, and being fully present in the moment. I mean, let's just be real here – picnics are kick ass because you are eating food while looking at an awesome part of the Earth. That's why you should like them.
From all of my experience having picnics, I've found out what works and what doesn't work. Keep in mind that every picnic situation is different. For instance, a picnic while hiking requires a lot less materials than a full-day picnic lounging at a park. So, without further ado, I present to you the ultimate list of essentials for a perfect picnic.
Disclosure: This post may contain affiliate links. If you make a purchase from one of my links, I may receive a commission or credit at no additional cost to you.
Essentials for a Perfect Picnic
1. Blanket
The bigger the blanket, the better. Having to sit in the dirt or grass because your food is taking up the entire blanket is no fun. Even if you plan on eating at a picnic table, still bring a blanket along. You might get chilly, or the tables might all be taken, so it's better to be safe than sorry.
I suggest getting a blanket that is waterproof on one side and soft on the other. There's nothing worse than having wet ground soak through the blanket to your butt during a picnic.
This blanket from LL Bean is perfect for maximum comfort, classic aesthetics (hello red plaid is prime picnic blanket design), and easy transport.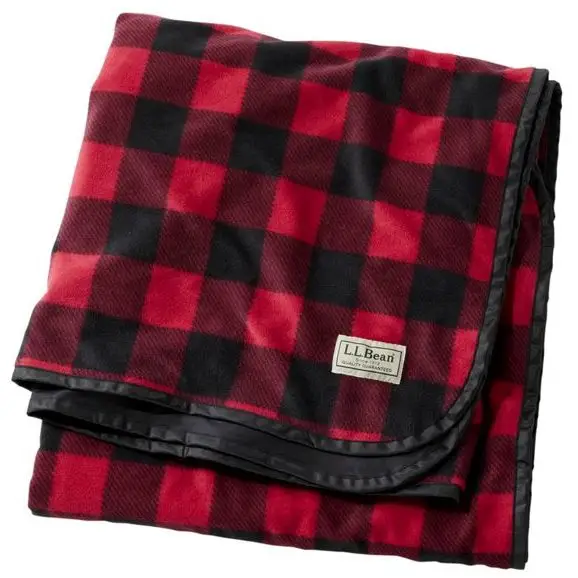 2. Picnic Basket
Picnic baskets are too classic not to put on this list. However, a portable cooler or lined bag will also work just fine. Basically, you need to something to carry your food and supplies. Picnic baskets automatically add a lot of sentimental value to every picnic occasion, and they make for excellent pictures.
My boyfriend and I purchased the perfect woven picnic basket last year, and we haven't looked back since. The picnic basket we have is big, simple, and extremely cute! We got ours from LL Bean, but unfortunately they don't carry it any more.
This picnic basket from Wayfair is simple, cute, and has great reviews.
3. A Nice View
You may not have access to a beautiful mountainscape or the ocean. But that's okay – not many of us do. I truly believe there is a view to appreciate in any area, no matter how bad or desolate it seems.
The best place to start for finding a nice view is any bodies of water nearby. Other places I suggest are parks, open fields, any area of green grass, or somewhere in sight of a big tall tree line.
Keep in mind that temperatures on any coastline will be cooler than areas not near water. Bodies of water also tend to be windier than inland. Lastly, if it's summer, remember about mosquitoes! Heavy woods and humid swampy areas are full of the pesky buzzers in hot months.
4. Dishes and Utensils
I STRONGLY advise using real dishes for your picnic. I know paper plates and plastic utensils may be tempting, but they're flimsy and wasteful. Bring along dishes you already own. They are cheaper, better for the environment, and sturdier/easier to eat off of!
If you go this route, make sure to bring a bag for the dirty dishes – cloth grocery bags work great. Use a few paper towels to wipe down the dirty dishes before packing them away to avoid any messes when you get home.

5. Food
FINALLY we've made it to what you've all been waiting for. Food is the heart and soul of every picnic, so it's important to make the right choices. If you decide to get food from a restaurant, more power to you! Sandwiches are the obvious go-to, but I've also eaten chinese, salads, sushi, soup, and pizza during picnics.

If you want to make your own food, there are a few things you should keep in mind.
It needs to be easily transportable. Think about how many serving dishes you'll need to bring to the picnic location. Recipes that can be covered and stacked (if applicable) are the easiest to pack and require the least amount of serving dishes.
It should be easy to eat. Remember you are potentially going to be eating off of your lap! Try to avoid saucy finger foods that will make a mess on yourself, there won't be a sink to clean up with. Dishes that diners need to cut on their plate are not recommended.
Avoid recipes that suggest serving it warm. For obvious reasons. (Ignore this if you are grilling. I have never used a public grill, so I don't have any tips on that, sorry!)
Leafy salads are awesome, but beware if the forecast calls for wind. My best friend and I packed salads one time and did not anticipate how windy it would be. There were lettuce leaves and toppings flying all over the place. Thankfully we finished up before the seagulls found our mess!
6. Beverages
In my opinion, the perfect picnic needs to have some type of beverage besides water. Great alcoholic picnic beverages are sangria, boxed wine, beer, homemade hard lemonade, and margaritas. Basically anything that can be mixed at home, or is easy to transport.
Don't play bartender at your picnic, bring all drinks pre-made in a large pitcher or empty milk jugs and large juice bottles work great as well. The same goes for non-alcoholic beverages. Flavored lemonade is my favorite for picnics, and cans of soda or seltzer water are great options as well.
Extras (Not necessary, but can help make your picnic more perfect)
7. A Book
Personally, I don't go anywhere I plan to relax without a book anyway, BUT they're particularly great for a long picnic. Take a break from that phone screen, and sip your perfect picnic beverage while reading a book. Even if you don't end up reading it, a book is always nice to have just in case.
8. Pillows/Chairs
If comfort is a main priority for you, I definitely suggest bringing some folding chairs, or some pillows. The hard, grassy ground can do a number on your butt if you're sitting on it too long. Give your heiny some rest with these low to the ground beach chairs, and these picnic cushions with a back.
9. Bluetooth Speaker
Background music makes everything better, especially if you're having a long, all-day picnic in the sun. There are a lot of portable bluetooth speaker options out there, but this is the one I have!
10. Binoculars
This suggestion is certainly more for people who like to spot and watch animals. My boyfriend loves birding, so I bought him these Nikon binoculars for Christmas… he brings them everywhere! If you're like him, you wouldn't miss out on an opportunity for bird watching, even at a picnic.