Disclosure: This post about things to do at home during summer may contain affiliate links. If you make a purchase from one of my links, I may receive a commission or credit at no additional cost to you.
It's summer! In 2020! And unfortunately, that means things are pretty different than previous summers. With the pandemic still not under control in the US, summer 2020 is (for all intents and purposes) cancelled. No concerts, no festivals, no weddings, no parties, and still no bars and restaurants in some states.
This doesn't mean fun is cancelled, though! It just means we have to get creative. Finding new things to do in a house or apartment you've been stuck in for the past 4 months seems impossible, I know. But let's look on the bright side: it's summer! The weather is nice, properly social-distanced outdoor activities are now options, and we have 15+ hours of sunlight daily. This opens up a whole new realm of activity possibilities.
This list includes both at-home activities, as well as a few outdoor away from home activities. While this list is geared toward adults, many of the ideas here could certainly be used with kids! I personally don't have kids, so that's why I decided to focus on adults. Without further ado, here are 54 fun things to do at home during summer for adults!
54 Fun Things To Do At Home During Summer
1. Have A Picnic
Picnics are one of my absolute favorite activities to do. Seriously, what's better than eating outside? Find a local park or beach to post up for a couple hours, or plan to travel up to an hour away to explore a new city. If neither of those are an option, have a backyard or living room picnic! Make some "classic" picnic food like triangle sandwiches, fruit salad, and charcuterie with a red plaid table cloth. For more picnic tips, check out these 10 essentials for a perfect picnic.
2. Start a small or virtual book club
Like to read? Have friends that like to read too? Perfect! Here's a guide to get you started. If you don't have any friends that like to read (you need new friends!), try reaching out to your local library. Ask the librarian if there's a book club you could join, or if they could help you start your own. If a virtual book club would work better for you, here's how.
3. Try new cooking skills
I find this easiest when jumping straight in and trying a recipe with the skill you want to learn. I usually use Pinterest to find recipes – just search for what you want to try. If you need a visual, search the skill on Youtube to find some helpful videos.
4. Find a new podcast to listen to
I listen to podcasts on the Apple podcast app, but Spotify is also a good option. My favorite podcast is Radiolab!
5. Host a virtual happy hour
We live in the days of Zoom social gatherings and Google hangouts, so why not make it fun? Pick a theme, get dressed up, and mix a couple crafted cocktails to enjoy while socializing with your friends or family. Now that it's summer, you can do this on the porch on a nice summer evening, too. You could even share a nice camp fire with your happy hour group! Check out this article for some tips to get you started.
6. Take an online course
There is an online course for everything. I wrote a post about the best online course platforms, if you want some more in-depth info. Otherwise, my suggestions are: Skillshare, Pluralsight, edX, Coursera, Alison, and Udemy.
7. At-home Olympics or field day
This would be a blast with a small group of friends, or if you have kids. Pick countries or team names, everyone dresses up, and you can even have an opening ceremony. Decide on what games/"sports" everyone will compete in and designate a prize for the winners. For more ideas, check out this article.
8. Make a homemade slip-n-slide
Homemade slip-n-slides have gotten pretty popular in recent years. All it takes is some plastic lining, a few stakes, and a hose with running water. Here's some instructions on how to build your own. Not only is it a fun way to cool off, but there are several games you can play with it. The most popular one I've seen is flip cup.
9. Go for a walk or a hike
Download one of these hiking apps to help you find trails nearby.
10. Do a puzzle
Dig out that old puzzle from the depths of your basement and get jiggy with it! (get it, cause it's a jigsaw puzzle). If you don't have a physical puzzle, there's now an app for that. Just Google "free jigsaw puzzle apps" and take your pick.
11. Attend an online open mic or concert
Concerts and open mic events have had to move online this year. It sucks that we can't enjoy these things in person, but there are a lot more opportunities to witness events that would normally be far away or expensive! Eventbrite is a great place to look for online events, here's a list of open mic nights. Here's an awesome list of online live streamed concerts as well.
12. Try yoga
YouTube has hundreds of free videos you can follow along to if you're interested in trying it out! If you end up loving it, there are many apps you can download to have yoga sessions available to you at any time and any place.
13. Make homemade greeting cards to send out to your friends
You could also just send out a pre-made one, but making it homemade adds a nice personal touch.
14. Host a murder mystery party
If you've never been to a murder mystery party, you have no idea what you're missing out on! I wen to one when I was in middle school, and it was a total blast. This would involve a small gathering of your closest friends to comply with social gathering guidelines. There are even free murder mystery games online – check out this list.
15. Make a 2020 time capsule
2020 has been a year of ups and mega downs, but it's certainly one for the history books. Make a time capsule with some important items in your life in addition and put it away to open in 15 or 30 years!
16. Volunteer
Some great places to start are: VolunteerMatch.org, your local library, United Way, your local food bank or homeless shelter, or contact any organization that has had an impact on you and see if they could use a volunteer in any capacity.
17. Try bird watching
It's the ultimate free activity if you have a yard or park near by! There are many free apps you can download to learn what birds are native to your area and attempt to identify different calls. My favorite is the Audubon Bird Guide App by The National Audubon Society.
18. Have a wine or beer tasting at home
Spend a night playing bar tender for yourself and/or your significant other. Most grocery stores offer make-your-own 6-packs of beer and cider, so it's easy to get a variety of brews you normally wouldn't try. Wine could be a little more difficult, depending on what your local grocery or liquor store carries, since you might not want to purchase whole bottles. Some brands do make canned and mini bottles now, so be on the lookout for those!
19. Research your top 5 travel destinations and plan your dream trips
Pinterest is always my go-to resource for travel inspiration!
20. Come up with a travel bucket list (or any kind of bucket list!)
21. Make a vision board
Never heard of a vision board? Read this article and get started!
22. Have a movie marathon
I'd save this one for a dreary and rainy day. Stock up on popcorn and movie theater candy, and get watching! My favorite movie series to marathon is Harry Potter, but of course there are tons to choose from. Now that Disney plus is available, you could even just watch all of you childhood favorites you haven't seen in years. You'll definitely have a new sense of appreciation for the humor as an adult!
23. Start or plan a vegetable garden
At this point in the summer, your only options are to plant a fall crop or start planning for next year. Check out this guide to learn everything you need to know to start a vegetable garden. Once you have the basic idea of what will be required of your yard, check out Johnny's Selected Seeds Grower's Library. They have everything you need to know.
24. Set up a romantic at-home date night for you and your partner
We all have different ideas of what is "romantic," so do what's right for you and your partner. It's the thought and effort that counts in an at-home date night. The one thing I will suggest though, is that you specify a few days ahead of time that you're planning a date night. That way you both have something to look forward to, and it feels more special than the last 5 months you've both been stuck working at home together.
25. Have a craft cocktail flight tasting
Invite a couple friends over for a special at-home bar night! (If you don't drink alcohol, see #26)
Step 1. Pick a certain cocktail or liquor you all like.
Step 2. Everyone brings ingredients for a different flavor of said cocktail or liquor. For example, a strawberry margarita, jalapeno margarita, and peach margarita.
Step 3. Make some snacks that pair well with chosen cocktail.
Step 4. Enjoy!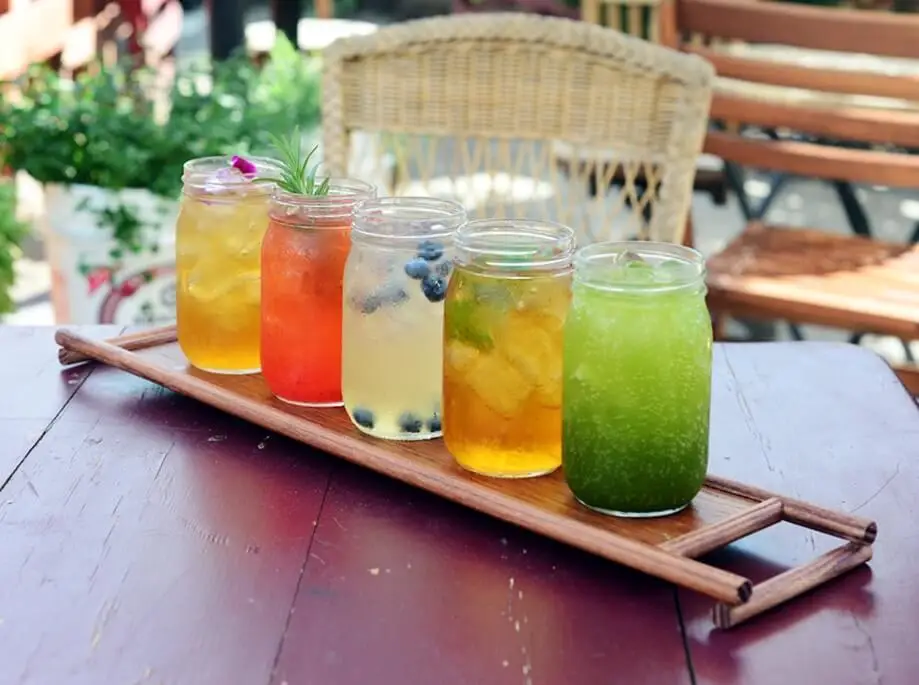 26. Have a craft lemonade flight tasting
Follow the same steps in #25, but sans alcohol! There are tons of different flavored and herb-y lemonade recipes out there. This could be really refreshing on a hot summer day with a couple friends or your partner!
27. Have a backyard bonfire
Make sure to check any ordinances in your municipality, so you're not breaking the law. Some require a contained fire pit, others may require a permit for such fires. After that, get those marshmallows roasting!
28. Have a party of one
This is one of my favorite activities. If you live by yourself, you very well may have been doing this all through quarantine. BUT, you probably didn't actually plan a party for yourself. That's the difference. Make a theme, buy the snacks, get cheap decorations, and play that dancing music! When you're the only attendant, you can do just about anything you want!
29. Fly a kite
It's definitely got to be windy for this, but in the right conditions, flying kites is a blast!
30. Water balloon fight
Growing up, my brothers and I would beg our parents to buy us water balloons every summer. This along with all of the mega-soaker water guns we had made for some pretty intense water fights in hot weather. I'd love to do this now as an adult – I'm sure it'd be a ton of fun!
31. Tour famous museums online
Google Arts & Culture has virtual tours of several famous art museums from throughout the world. They also have incredible pictures of famous works of art to view, inspect, and read about.
32. Create a backyard beach
There are many reasons not to go to the beach in the times of coronavirus. I personally live at least an hour away from any significant beach. I don't want to make the commitment to drive that far only to arrive at a super crowded beach where social distancing is impossible. Although nothing can replace the actual beach, try replicating it in your backyard (if you have one). Lay out a towel, put on that swimming suit, and blow a fan on yourself to simulate an ocean breeze.
33. Identify the plants in your yard or neighborhood park
Learn more about what's around you! There are many apps you can download that can identify a plant when you take a picture of it. Or, go old fashioned at get a field guide book and try figuring it out on your own. You might learn more that way!
34. Have a read-a-thon
I LOVE to read, so I'm always planning days where that's all I do. Many public libraries are offering curbside pickup of books now. Borrow a stack, and get to reading! This is definitely my favorite thing to do at home during summer when I have some free time!
35. Tie-dye shirts
Tie-dying shirts (or other items) is a lot of fun. There are hundreds of designs and different methods to try. You Tube is probably the best place to get instructions.
36. Explore history with the pros
The Smithsonian website has a ton of awesome features to explore history online. Much of their collections are digitized and open to the public to explore. They also just have some really interesting and cool articles to read and learn from.
37. Get lost in space
Google Sky has an interactive display of space (aka the night sky). Another really cool website is stellarium.org – they have an awesome app to learn constellations and more about space.
38. Paint or do arts and crafts
I'm sticking painting and arts and crafts together, because they both require some kind of supplies. Most of us have a box or bag of old art supplies laying in a closet somewhere – get those out and see what happens! Painting is really fun if you get into it. You don't even have to be good, just let the creative juices flow.
39. Draw
All this requires is paper and a pencil! It can't get simpler than that. What a great time to try drawing if you're self-conscious – there's no one around to see or judge your drawings! If you want to get more serious, there are tons of tutorials on YouTube.
40. Pick up an old or new instrument
You know that flute or violin from high school you still have laying around somewhere? Get it out, dust it off, and see if you still remember how to play. Music is an amazing way to activate the creative parts of our brains. Who knows, you might find out you really miss it!
41. Have a backyard movie night
Depending on where you live, outdoors is a lot cooler at night in the summer than inside your house (I don't have AC, so this is almost always true!). Bring a TV out on your deck, setup your computer, or if you have a projector, hang up a sheet to make a big screen! This could definitely become a weekly fun thing to do at home during summer.
42. Write a book or story with your friends
43. Play multi-player games by yourself
Remember that short before some Pixar movies with the man playing chess by himself? That could be you! It sounds kind of boring, but if done the right way, it could be fun. Challenge yourself.
44. At-home spa day
Give yourself a mani-pedi, exfoliate that skin, and curl that hair! You deserve it.
45. Watch both the sunrise and sunset in the same day
This might involve getting up early, but it'll totally be worth it! I promise!
46. Make homemade ice cream
If you have an ice cream machine, then this will be pretty easy. If not, follow this recipe for regular ice cream, and this recipe for a healthier, non-dairy version.
47. Have a Chopped contest
Have you ever watched Chopped? Dig through your kitchen cabinets and find weird combinations of ingredients and see who can come up with the best tasting dish!
48. Create a Pinterest
You can follow Life Lived Curiously if you decide to make your own Pinterest! It's great for finding recipes, inspiration, planning weddings, travel destinations, and more.
49. Discover some new music
My absolute favorite place to find new artists are the NPR Tiny Desk Concerts on Youtube. Pandora and Spotify are also great platforms!
50. Redecorate or rearrange your furniture
As a kid, I loved to rearrange the furniture in my room. It always made me feel refreshed and like I was seeing things from a new perspective.
51. Learn a new language (well, get started at least)
Free: Coursera, Duolingo, Busuu, Babbel, edX
Free trial: Rocket Languages, Rosetta Stone
52. Karaoke
53. Watch Willy Wonka
Of course the old one, what are you crazy? This is my absolute favorite movie, and it's on Netflix.
54. Build a fort
You know the kind. Blankets, pillows, the couch, and any free-standing move-able furniture. Have a picnic and watch a movie from inside when you're done.